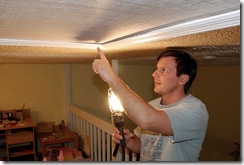 Eco-Cents was founded in 2010 by Mike Arendt, a fisheries biologist by trade who has spent the last four years critiquing and reducing his own footprint.
For many years he listened indifferently and generally accepted the way we've always done things.  But in October 2006 a catalyst combusted following his first exposure to mountain top removal in the documentary, "Kilowatt Ours".
Moved by the film's content and message, Mike then set out to power his entire home with solar panels, only to discover that this approach wasn't the answer either.  Instead, as explained by the good folks at Sunstore, the winning formula is as follows:
Evaluate your resource consumption habits to identify trends.
Conduct a detailed audit to diagnose improvement areas.
Systematically implement improvements as finances permit.
Adhering to that philosophy, Mike has reduced his own electricity consumption by 30%, water consumption by 50%, and produces less than one City garbage bin (96-gal) worth of trash annually.  But the best part of his success story is that the majority of these improvements stemmed from 'low-tech' solutions with almost immediate investment pay-back times.  As such, Eco-Cents outlines his actions in the hopes of inspiring even more 'change' on a grander scale.